We offer unique gourmet mushroom teas in reusable tins. These adaptogenic superfoods are a strong way to release daily stress and balance your body, mind and spirit.
They are a great addition to your healthy lifestyle.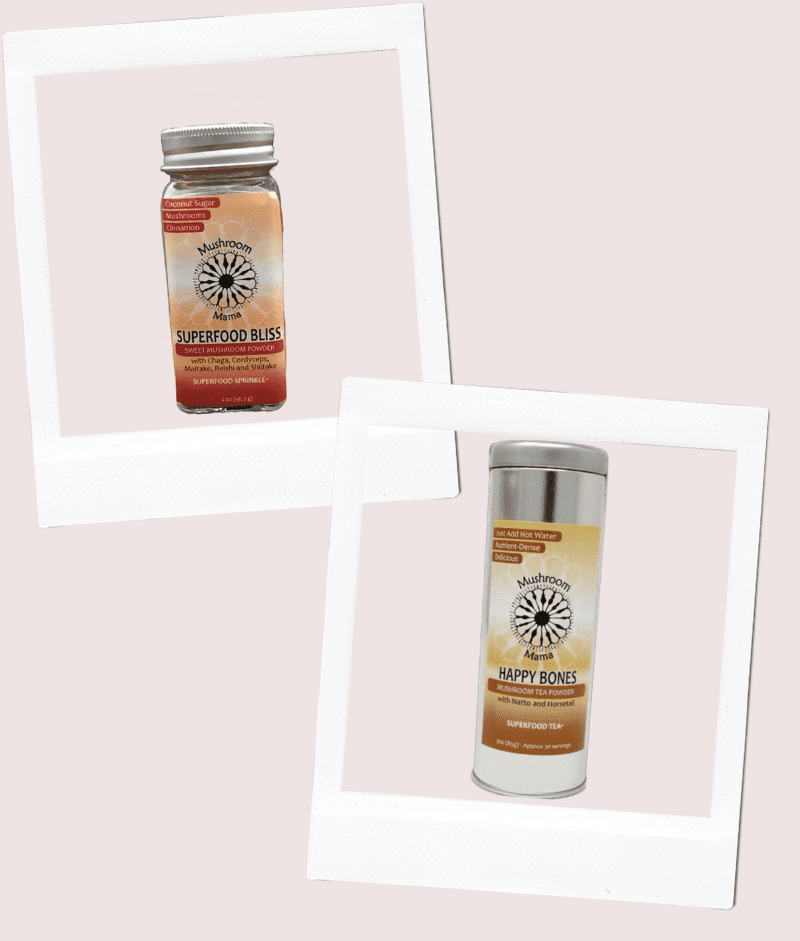 Unique Mushroom Mama Products
Mushroom Mama is proud to offer you five unique, nutrient-dense, medicinal mushroom teas made with Organic Chaga, Cordyceps, Maitake, Red Reishi and Shiitake. Our Power Soup is the most amazing bouillon you'll ever use (8 mushrooms and no MSG!)
Superfood Bliss is pure heaven (remember sugar and cinnamon on your toast?) and our line of Double-Extracted Tinctures will rock your world. And we plant two trees for every Mushroom Mama product you purchase!
Mushroom Mama's teas are awesome! Golden stamina's blend of-the anti-inflammatory properties of turmeric and black pepper, plus the energy of cordyceps feels super supportive and I LOVE the way it tastes. It's super-easy to make and I can take it in a thermos anywhere! Even while camping in the winter my thermos of Golden Stamina kept me warm and nourished.
I have been using Harmony's Happy Bones every day for over a year. I mix it with my chai tea and it is delicious and deeply nourishing. I love the bone-strengthening ingredients of natto and horsetail.
Francie, Selfworthinaction.com
Signup today for a free e-book!
Join the Mushroom Mama mailing list to find out about special offers and new products.
Good for You. Good for the Planet.
We partner with Eden Projects because we want to make the world a better place and so does Eden. They provide economic incentives and simple planting techniques to support local communities in restoring their local environment and economy. Eden keeps it simple, so the systems can be easily replicated and implemented by people who don't have many resources and must deal with treacherous roads, unreliable electricity and spotty internet. Putting the local community at the center of their work inspires great commitment to reforestation in their country and a sense of ownership to protect their forests long-term. With every single Mushroom Mama product you purchase, we donate money to Eden and they plant trees in communities all over the world…two trees for every tea you buy.